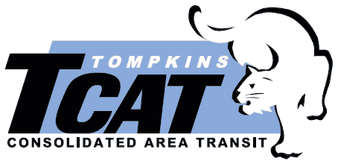 Tompkins Consolidated Area Transit
is jointly owned by Cornell University, the City of Ithaca, and Tompkins County. Originally, TCAT was three separate systems, but in the late 1990s, the three systems were combined into one system with a common fare structure, bus stop signage, and fleet. Today, TCAT operates a total of 40 bus routes that serve Ithaca Commons, Lansing, Cayuga Heights, Trumansburg, Dryden, Groton, Newfield, Enfield, Ithaca College, and Cornell University, among other areas. Six routes provide daytime circulator service within Cornell's campus, two are "blue light" routes for Cornell, and two seasonal routes operate between Ithaca Commons, Cass Park, and Taughannock State Park. Additionally, one route operates to Newark Valley in Tioga County, and another route operates to Watkins Glen and Odessa in Schuyler County. Many routes have Saturday service and some routes have Sunday and late night service. In 2003, TCAT carried over 2.8 million passengers on its fixed bus routes and paratransit services.
The TCAT bus fleet consists of about 52 buses that are owned and operated by TCAT. The paratransit contractor, GADABOUT, uses 26 buses for its service. The TCAT fleet consists of Orion Is, NovaBUS LFSs, New Flyer D40LFs, and a Chance Trolleybus. Some of the Orion Is were originally operated in Utica, NY. TCAT accepted 8 Gillig Advantage diesel buses during the summer of 2006, and took delivery of 6 hybrids over the course of 2007.
In addition to TCAT's services in Tompkins County, both Tioga County and Chemung County operate their bus routes in to Tompkins County, serving both Ithaca Commons and the Cornell University campus. These service are almost all exclusively rush hour services scheduled to bring workers from Tioga and Chemung Counties to Cornell in the morning, and return them home in the evening.
Finally, Cornell University contracts the operation of an express bus service, called Campus-to-Campus from the Cornell campus in Ithaca to the Cornell Club and Cornell Medical College in New York City to Caz Limo, Incorporated of Syracuse. The service is operated with two luxury Prevost motorcoaches that feature 2x1 seating, a galley, hot and cold running water, XM sattelite radio, and wireless internet access. Campus-to-Campus operates at least two round trips a day, seven days a week with stops in Ithaca on North Campus, the Statler Hotel, and Oxley Equestrian Center. The New York City stops are at the Cornell Club on East 44th Street between Fifth and Madison, and at the medical college on York Avenue at 68th Street. A one way trip takes as little as four hours and costs 75 dollars each way (by comparison, a one way trip on Short Line is about 30 dollars). A Cornell connection is required to ride the bus.